Camps are for learning
Whether it's Spring, Summer, or Winter break, we offer a variety of sessions that help keep young students engaged and creative in their time away from the classroom. Through the youth programs at Flower City Arts Center, we encourage young artists to blossom; learning more about craft while exploring their own creative process. Our youth programs also encourage a variety of practical skills that can be taken back to the classroom, including*:
Teamwork
Problem solving
Empathy and self understanding
Memory building
Communication skills
You can register your student online by visiting our classes page. The process is quick and easy. Or, you can call our Administrative Office at 585-244-1730 for assistance.
*For a fun graphic that includes a wealth of research on how the arts improve everyday life, even for young learners, please visit this interactive presentation from Createquity.

Camps are for community
Rochester is home to a wealth of educational and artistic opportunities for students of all ages. Our community partnerships help to expose students to a wide array of these experiences. Through partnerships with Writers & Books and the George Eastman Museum, we have offered a variety of courses that allow students to recieve a top-notch education from some of the best experts in the area!
In 2017, young photography students traveled from as far as Canada to participate in our first ever partnership in a workshop with the George Eastman Museum. Students had the unique experience of meeting renowned photographer Eugene Richards for an exclusive tour of his exhibition The Run-On of Time at the GEM. Students learned how to use a 35-mm camera, how to make their own prints in a darkroom, and had their efforts reviewed by local photography experts (pictured above).
Summer of 2018 brought a photography and lighting studio workshop with famous photographer David Levinthal. Students created their own works of art and joined Levinthal for an exclusive tour of his exhibition David Levinthal: War, Myth, Desire at GEM. To see the work done by the students, please visit our photography blog.
For more than 15 years, our partnership with Writers & Books has combined the power of words with the variety of mediums offered at the Arts Center. This opportunity gives students enriching ways to explore the combination of creativity and expression.
Camps are for FUN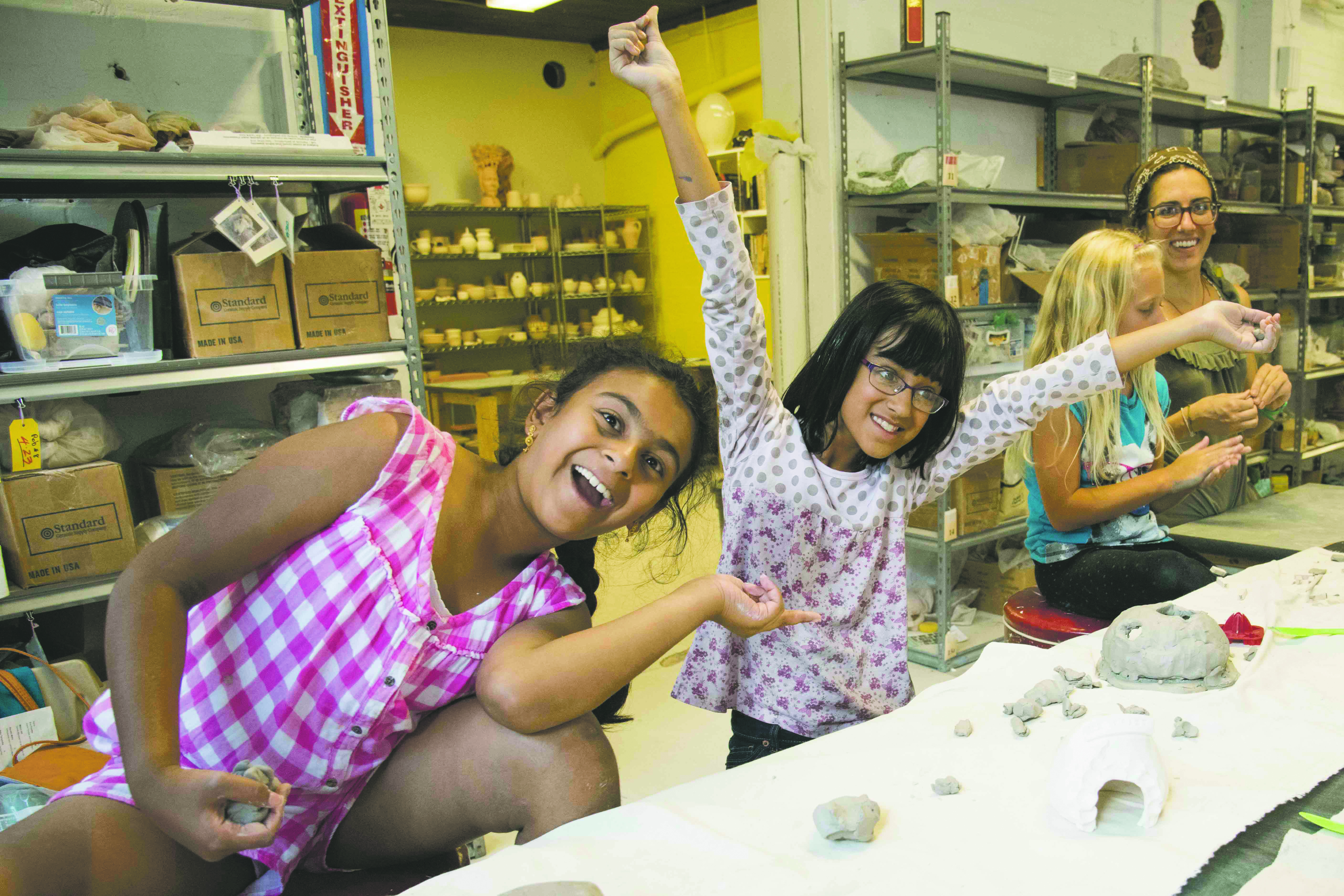 Most importantly, camps are for FUN! Whether your student is in high school and looking to build their portfolio, is in middle school and is looking for like-minded friends, or is in elementary school and just starting to learn what art is, our variety of camp offerings will have the education, experience, and community they are looking for. Are you ready to sign up and begin your camp experience? Visit our Classes page and click the option for "kids only." If you aren't sure which option is best for your student, please call our main office at 585-244-1730. We can help you determine what will best suit the needs and skills of your learner.