Facilities
---
Our facilities are available for the established artist to the dabbler. Current students may access studio hours as part of their class. Members of Flower City Arts Center may rent studio hours at varying rates depending on program area. Members must be at the Individual level or above to access our facilities.

PRICING UPDATE: As of January 2021 the hourly rate for the Community Darkroom rental is $8. The hourly rate for the Silver Den (alternative process space) is $10 and automatically includes Dan's Darkroom (black and white chemistry is available with Silver Den rental at our current tray rate ). Monthly and 24/7 rental rates will not change.
COVID-19 BUILDING UPDATES AND SAFETY REQUIREMENTS: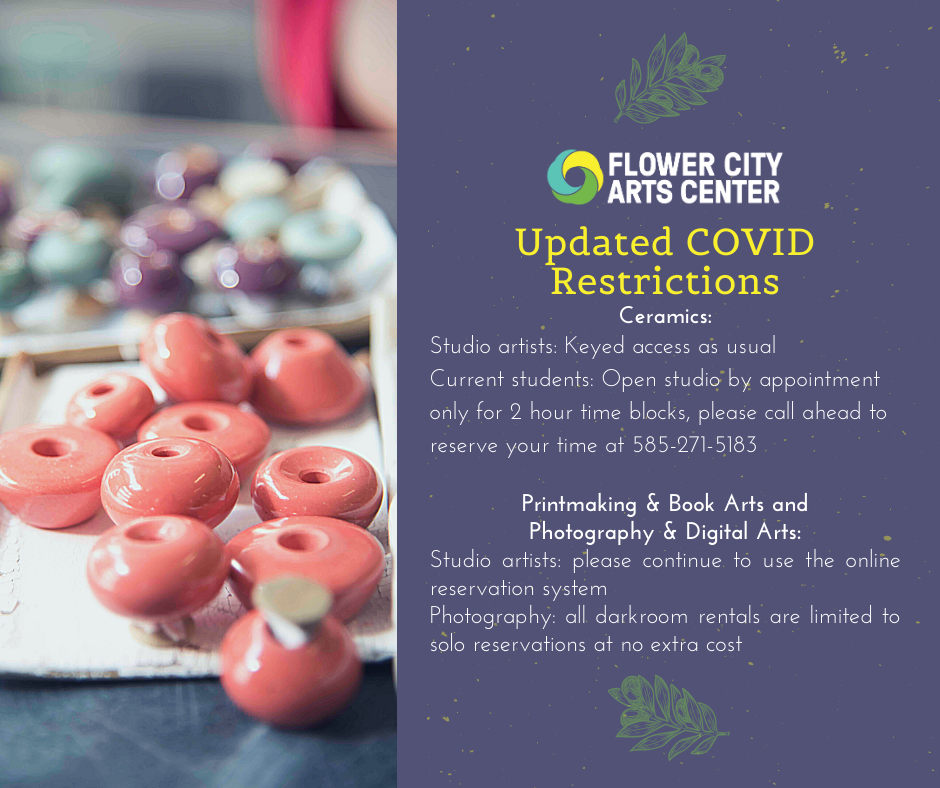 We are currently open for limited in Center activities under the Governor's Phase 4. When you come into the Center:
1) You must not enter the building, or must leave immediately:

a) if you have any COVID-19 symptoms (i.e., fever, sore throat, dry cough, difficult breathing, shortness of breath, headache, tiredness, muscle aches, loss of taste or smell, conjunctivitis, vomiting, nausea, or diarrhea), or

b) if you have been exposed to someone who tested positive for COVID or who exhibits COVID-19 symptoms, or

c) if you have tested positive for COVID-19 or are awaiting the results of a COVID-19 test, or

d) if you have traveled to one of the states or countries designated as requiring mandatory quarantine by New York State.
2) You must wear a face covering at all times or you will be denied entry and asked to leave.

3) You must use the "Sign In/ Sign Out" sheets located at the entrances, indicating where you are going, your time of entry/exit, and your telephone and email contact information. If we become aware that someone who was in the Center tests positive for COVID-19, we need your contact information to let you know if you were in the building at the same time.

4) You must follow all directional signs and practice social distancing while inside the Center.
5) You may not eat in any studio, gallery, classroom, or work space. Please eat outside.
6) You must practice all CDC recommended hygiene procedures. We take your health and safety - and the health and safety of our staff, instructors, artists, studio artists, and visitors - very seriously.
Studio artists with keyed access are required to wear face coverings, to practice safe distancing, and to follow our hygiene and cleaning postings.

If you have any questions about these requirements or your ability to meet them, please contact the individual department directors. For our list of email addresses, please visit our About page.
If you need further assistance, please call 585-244-1730.
Members must be at the Individual level or above to access our facilities. Once you are authorized to use the facilities you may reserve time online in Photography & Digital Arts and Printmaking & Bookarts: photo.flowercityarts.org/reservations