The welfare of our staff, teachers, students, and artists is critical. To view all of our current updates and our face mask, hygiene. and other safety requirements, please visit our Facilities page here. UPDATED: 3/02/21
NEW: In the event of a mandated shut down due to COVID-19 during the Spring class session (April through June), full or prorated refunds will be issued in the form of a FCAC gift certificate, as appropriate. In the event of a pandemic lockdown, the Flower City Arts Center reserves the right to change open studio times and walk-in hours at our discretion. Thank you for your continued support of the Flower City Arts Center during these uncertain times.
---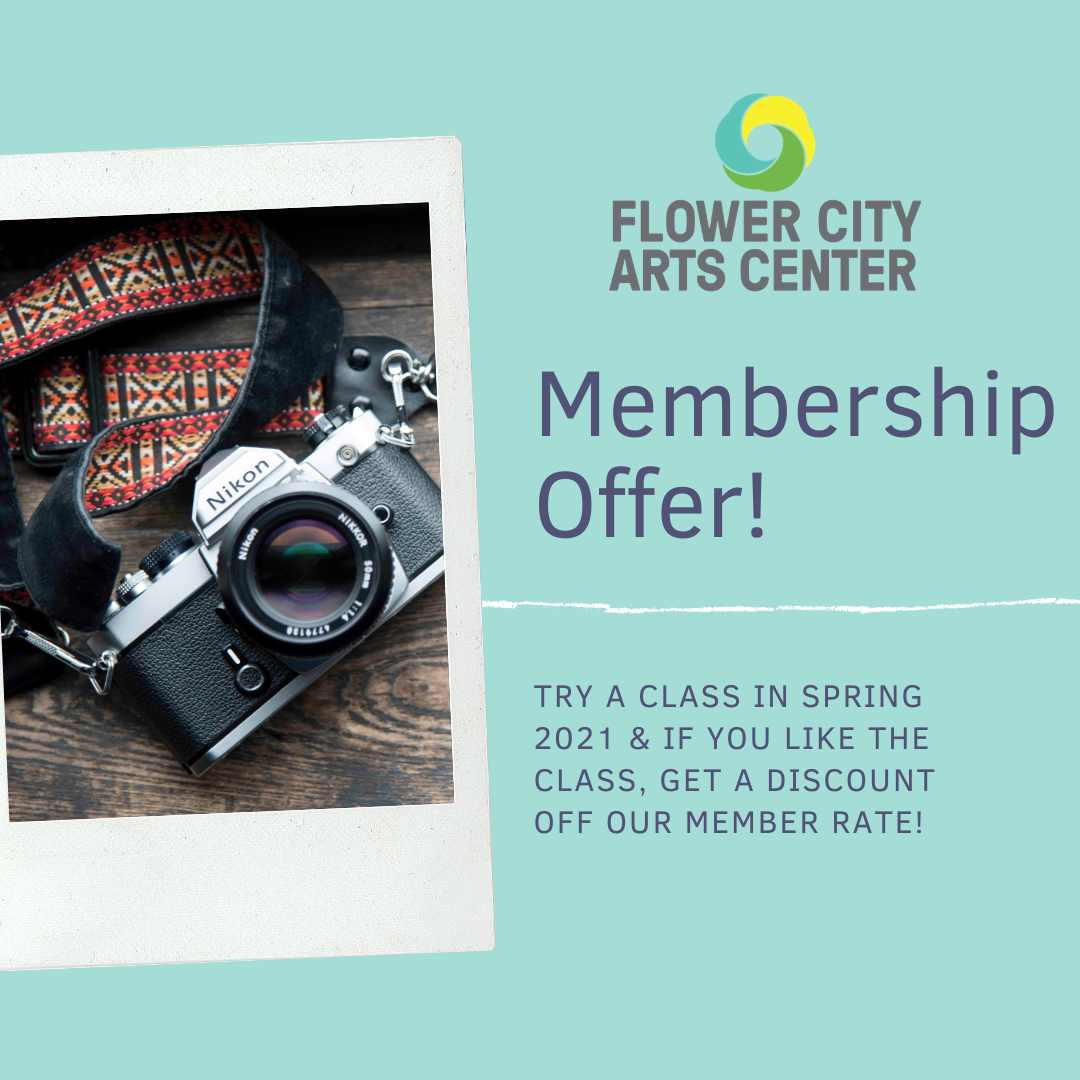 NEW MEMBERSHIP OFFER THROUGH JUNE 20, 2021 FOR SPRING 2021 CLASSES ONLY
Find any class you're interested on our website, register at the non-member rate, and fill out the contact form here. At the end of the class, if you decide to become a member*, you'll receive a discount off the membership equal to the discount you would have received if you had been a member.
For example: A person takes our Color Film Developing class for $85 and at the end of the class they sign up for a membership*. The membership rate for that class was $65, providing a $20 discount. Instead of paying $60 for an individual membership, the new member would pay $40 for the year and take advantage of all member benefits and discounts throughout the year.
*This discount is available toward the Senior/Student and Individual membership levels for brand new members only.
---
Information on general tuition assistance for classes at Flower City Arts Center can be found here.

---

If our classes aren't exactly what you're looking for,
find information about customizable 1-on-1 instruction here.
CLICK HERE TO READ OUR LATEST CLASS BROCHURE OR VIEW ALL CLASSES BELOW